Posted by Catherine | December 8, 2013 | No Comments
In today's piece from the archives, Emily M. juxtaposes her own experience with pain at Christmas time with Elder Holland's experience and shares the comfort she found in his words.
CHRISTMAS PAIN, CHRISTMAS JOY
Posted by Emily M. | December 24, 2007 | 7 Comments
Four years ago, the week before Christmas, my mother-in-law suffered a heart attack. While this was not unanticipated, it was a hard thing to have happen at Christmas. She seemed to respond to us at first, but as time passed we could no longer reach her, and machines sustained her life, feeding her and breathing for her.
One Sunday night I went alone to visit her in the hospital. I found our bishop already there. He had come alone also, after finishing tithing settlement, and he was reading to her from Elder Holland's book Shepherds, Why This Jubilee?. And this is what he read:
For many people in many places this may not be an entirely happy Christmas, one not filled with complete joy because of the circumstances facing a spouse or a friend, a child or a grandchild. Or perhaps that was the case another Christmas in another year, but one which brings a painful annual memory to us yet. Or . . . perhaps this may be the case some future Christmas …when there is some public or very personal tragedy in which it may seem, at least for a time, that "hate is strong and mocks the song of peace on earth, good will to men."

On the evening of December 23, 1976, my father underwent surgery…. The surgery was successful, but near the conclusion of it he suffered a major heart attack. Eight hours later, he suffered another one…. By the time we finally got to see him, wired and tubed and gray and unconscious, it was mid morning on December 24, Christmas Eve…

"Magnificent time," I muttered to no one in particular. . . .

At the hospital I sat and walked and read and walked and looked in on Dad and walked. He would not, in fact, recover from all this. I suppose everyone knew that, but the nursing staff were kind to me and gave me free access to him and to the entire hospital. A couple of nurses wore Santa Claus hats, and all the nursing stations were decorated for the season. During the course of the evening I think I checked them all out, and sure enough, on every floor it was Christmas.

You will forgive me if I admit that somewhere in the early hours of the morning I was feeling pretty sorry for myself. "Why does it have to be like this?" I thought. "Why does it have to be on Christmas Eve?"

Lying under that oxygen tent was the most generous man I have ever known . . . and by some seemingly cruel turn of cardiac fate it was Christmas morning and he was in the process of dying.

Then and there 2:00 or 3:00 a.m. in a very quiet hospital, immersed as I was in some sorrow and too much selfishness heaven sent me a small, personal, prepackaged revelation, a tiny Christmas declaration that was as powerful as any I have ever received.

In the midst of mumbling about the very calendaring in all of this, I heard the clear, unbroken cry of a baby.

It startled me. I had long since ceased paying attention to where I was wandering that night, and only then did I realize I was near the maternity ward; somewhere, I suppose, near the nursery …

God could not have sent me a more penetrating wake up call.

"Jeff, my boy," my Father in Heaven seemed to say with that baby's cry. "I expected a little more from you. If you can't remember why all of this matters, then your approach to Christmas is no more virtuous than the over commercialization everyone laments these days. You need to shape up just a little, to put your theology where your Christmas carols are. You can't separate Bethlehem from Gethsemane or the hasty flight into Egypt from the slow journey to the summit of Calvary. It's of one piece. It's a single plan…. Christmas is joyful not because it is a season or decade or lifetime without pain and privation, but precisely because life does hold those moments for us. And that baby, my son, my own beloved and Only Begotten Son in the flesh, born 'away in a manger, [with] no crib for his bed,' makes all the difference in the world, all the difference in time and eternity, all the difference everywhere, worlds without number, a lot farther than your eye can see."

I have repented since that night. In fact, I did some repenting there in the maternity ward. If you have to lose your dad, what more comforting time than the Christmas season?

These are sad experiences, terribly wrenching experiences, with difficult moments for years and years to come. But because of the birth in Bethlehem and what it led to, they are not tragic experiences. They have a happy ending. There is a rising after the falling. There is life always. New births and rebirths and resurrection to eternal life. It is the joy of the stable the maternity ward forever.

. . .[W]hat may be most glorious about the hymns' celebration of Christ's advent is not only their telling of that first Christmas story but also their promise of a later one. This is the theme that runs through the carols and which may be lost in the season if we are not listening for it. Along with the joy of Christmas past is the anticipation of Christ's triumphant return and what will be made known by the angels again.

-Elder Jeffery R. Holland, Shepherds, Why This Jubilee
She died New Year's Day. I borrowed the book from my bishop, and I have read over this story many times. I think that we all want Christmas happiness, and sometimes we get it. Sometimes, though, we get the kind of Christmas that, if we allow it, helps us access and understand the Atonement in ways that only suffering allows.
I don't wish that kind of Christmas on anyone. But I also would not trade my own experience: my grief at her suffering, combined with the sight of my tender bishop, reading her the words of an apostle that have brought me comfort at Christmas ever since.
Posted by Guest | December 7, 2013 | 5 Comments
Karin received her Bachelor degree from Brigham Young University in English. After pursuing 2 years of international travel, including Russia, China and Taiwan to teach to English, she met her husband who inspired her to plant her roots in Utah and start a family. She is now the busy mother of 5 energetic children. She is an active volunteer at her children's elementary school and enjoys reading, hiking, international travel, music and dancing in her kitchen when no one is looking.
A couple of years ago, I happened upon an article by Jason Wright about the 12 Days of Service he does with his family, leading up to Christmas. You can find the list HERE. The second year we followed this plan, I had a particularly touching experience doing something completely uncomfortable in a completely unconventional place. That's how the Spirit likes to work in my life though, using uncomfortable and sometimes random circumstances to make a point.
"Day 2: Do something nice for someone you don't know." Knowing that two of my children had a white elephant party in their school class coming up, I loaded up the van with my children and headed to the dollar store in search of gifts. I had already predetermined that the dollar store is where we would perform our service.
The children wandered and hemmed and hawed over which plastic toy to pick for their party. The aisles were crowded with people making quick purchases. It was, after all, the week before Christmas and school, family and neighborhood parties were in full swing. I looked toward the check out line and sighed. It stretched 7 people long. When the children finally made their selection, we filed over to take our place in line. As the line slowly moved forward, my children ran back and forth, exchanging gifts for something they deemed better until we were finally ready ring up the purchases.
As the toys passed the scanner, I told the clerk I would like to pay for the woman behind me in line. The line was long and noisy and I knew the woman hadn't heard me. She had 4 large, clear glasses in her cart. I turned to her and asked if it would be ok if I paid for her purchase. Immediately I felt my face flush red. I was keenly aware of not only the attention of the clerk and the woman I had spoken too, but all the other people waiting in line. I was more than warm and wished I had shed my jacket earlier, before the attention was on me. I was physically and socially uncomfortable in the highest order. I began to sweat in the nanoseconds of time it took for the surprised woman to respond.
"Well…I…uh…that's," she stammered. As if a decision had been made in her mind she nodded and said, "Actually, that would be nice."
I wondered at the wording of her response and turned to pay the clerk. I gathered my bags and waited for the clerk to wrap the woman's glasses before I turned back to her and wished her Merry Christmas. Her tear-filled eyes took me by surprise. "Thank you so much," she said and reached for me. "These glasses are for my niece's funeral." We embraced for a short moment and then she left. I stood still amidst the bustle of the dollar store, wondering. The scanner beeped, bags rustled and my children clung close to me, knowing something special had transpired but not fully understanding.
That's the magic of service, isn't it. The key is determing that we will serve. We must be willing to act in whatever capacity we are able. God will magnify our offering, large or small and work it into His grand design. He is the master weaver of good works. Sometimes we know our affect and sometimes we don't. Often, it may be uncomfortable for us in the moment. The important thing is that we are doing something.
Posted by Jennie | December 5, 2013 | 31 Comments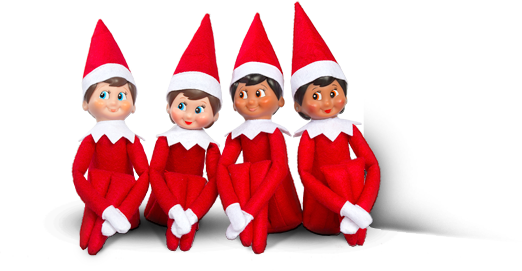 I may or may not have announced on Facebook a couple of weeks ago: "If you post pictures of your Elf on the Shelf I will unfriend you for the month of December." Partly to be funny, but partly out of spite I felt I needed to issue my warning. Some people like this "tradition" (Nobody was doing it five years ago so it's not really that much of a tradition), but some people really despise it (me!). There are so many reasons I hate it: using weird bribery to get kids to behave, furthering the "I Believe" cult of people bearing their testimonies of Santa, and it does have such a creepy little face. Mostly, though, I hate this Elf on the Shelf thing because it symbolizes all the crazy stuff we do to ourselves during the holiday season. Somehow Christmas and St. Patrick's Day have come together to create a completely bizarre tradition: an Elf that gets into crazy mischief every single night. As if buying presents, giving neighbor gifts, attending concerts and/or parties, making travel arrangements, decorating our houses, doing one or more advent calendars, and baking at least a few more times than we usually do isn't enough. Now we have this Elf to worry about to.
I know that most of the people who do it say it's a fun and harmless tradition. But it seems to be a bit overboard. It seems to be just one more thing to increase the chance of being in a bad mood come December 25th. I would just ask all the big proponents of the Elf movement how many times they've posted pictures of their Elf hijinx on Facebook, blogs or Instagram. Because it seems that the people who are most into the Elf are the ones who are most active in social media. Are they really doing it for their kids or are they doing it to impress everyone else?
Is the Elf on the Shelf really to blame? Or is it just a symptom of our runaway culture? Is everything about Christmas getting out of hand? I have to admit that a few years ago when I had had enough of "all this materialism" and decided to make every single Christmas present by hand for all our relatives that I became a stressed out basket case. That Christmas was sheer misery. I thought that by making everything I would somehow get in touch with the spirit of Christmas, only to find myself knitting and making soap at 3 am on several occasions.
Posted by Jessie | December 4, 2013 | 3 Comments
Todd Landry is not coping well with the sudden death of his wife and reluctantly seeks counseling. However, just getting himself to a therapist's office is not enough, and after spending a number of unproductive weeks together, the counselor urges him to start blogging about his life. Todd begins opening up about his feelings online, and in turn begins coping with his life again. He learns that life is messy and choices aren't always black-and-white like we think they are, but also that people can grow and change in surprising ways.
I will admit that I was a bit reluctant to read this book, mainly because the protagonist and the author were male (I know, I am admitting my total bias towards female-related topics. I'm sorry!) After reading several positive reviews, my interest was piqued and I decided to dive in when I had a free day over Thanksgiving break. I was pleasantly surprised and can now recommend this book as one of the best I've read this year. Author Ryan Rapier covers a wide variety of sensitive issues with both candor and grace, and the resolution finds a sweet spot of faith-affirming realism that manages to avoid both vapid sentimentality and cynicism. Read more
Posted by Jennie L | December 2, 2013 | 8 Comments
Sometimes I think small flickers of time and chance actually become bigger, longer seconds.   Those are probably some of the only times I feel like I understand Einstein's Theory of Relativity. Which, I know I really do not, but when literal seconds breathe longer – I feel like I do.
He was standing by the bus stop and I knew I had to walk past him.  I was late.  My heart races and ticks with the second hand when I am late.  I hate the reminding pulse and pressure of hustle.  I thought to myself,  "just smile and keep walking…he may ask for money, but just keep walking."  I've been approached and asked a few times at this stop.  Amidst my self -imposed race, I nagged at myself for parking here yet again. But really, I didn't want to walk past him with my painted lips, pencil skirt, and shoes that beat the female cadence along the sidewalk. I felt my material abundance made his lack more apparent. It all felt a bit ridiculous at the moment. And I was walking into church.  Holiness. Worship.  I judged his thoughts. His supposed words of my "holiness" as I walked past his obvious need.
But the thing about thinking you know what someone is thinking, is you're assuming you know who they are. And I didn't.  How could I?  Maybe unconsciously, but arrogantly nonetheless, I thought I knew his type.
I hopped out of the car and walked as fast as I could. He turned in rhythm with the noise of my shoes and smiled.  As the moment expanded and his eyes shined, he said, "what a beautiful smile!" And it was not creepy, and he didn't want a thing.  He commented on my stone necklace and asked if I made it.
His tone was genuine, his voice was grounded, and I felt the gravity of my distortion between space, time, and judgment.
He had grey sweats on.  Oxygen snaked up his nose and tethered him to his spot. He had a calm presence. I smiled and talked for seconds then started on my way, when he quietly shouted, "keep being happy".  He thinks I'm happy I thought.  I'm glad he felt I was happy around him.
He asked for nothing. He gave to me.  He assumed nothing and I assumed everything.
While this was only a moment, a brief sketch or facet of his character revealed truth. I felt his aspect of  consideration and acceptance if only for an instant.  In my rush and chaotic mental to do list for the week I thought this was one more small hurdle, but his words brought perspective and briefly grounded me.  As I walked away I felt happy.  I felt of his warmth and I wanted to turn around and say, where are you going? Who are you? Do you have a family who loves you? Why do you need oxygen? But I kept moving and time raced on.
But I could have stayed there a while.
keep looking »