We are standing on the east end of Lake Wakatipu. The water shines a bright aqua blue in the light of Sabbath morning. Broom shrub spots the hillsides, splashing yellow across green slopes. It is springtime in New Zealand.
We find the sign. White with black print. Indicating church services in a chapel nestled at the bottom of a private driveway. The chapel is a house made of pearl-colored slat board. And it looks like someone is home.
My husband and I park on the main road, walk down the driveway, and crack the door. Sunbeams shoot across the carpet as we step into the small house. It's a room with maybe 15 chairs, a podium without a mic, and a keyboard, stage right. The faces, a beautiful mix of color, are smiling at us. With no aversion in their eyes, they look directly at us, even though we are strangers. And it is obvious,  they are happy we've come.
We exchange names, where we hail from, and sit down on the plastic chairs. The branch president asks if anyone can play the piano. I raise my hand and take my place behind the keyboard.
It feels good to be there. Good to sing, to pray, to break bread with these Saints.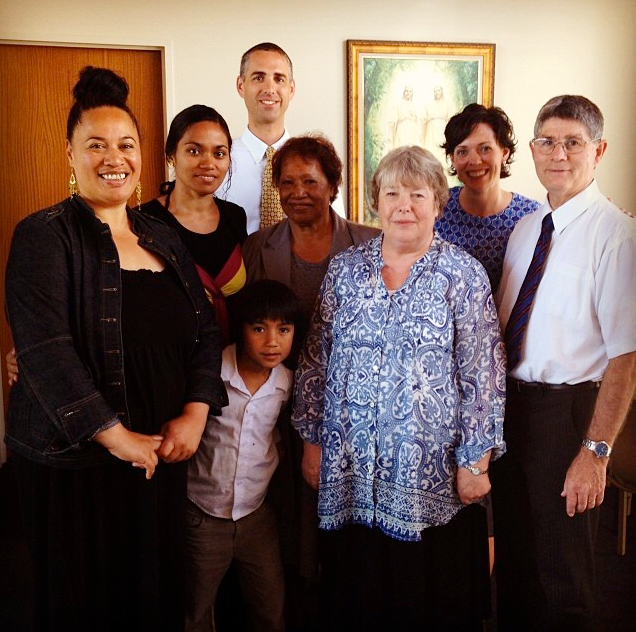 They invite us to share lunch with them following the meetings, and as we eat, we learn that the Queenstown Branch has only seven active members, with a total of 27 baptized members on record. This particular Sunday visitors make up most of their tiny congregation.
During the announcements, a beautiful young Maori sister, with a handful of children on her lap, is released as Primary President and called as Relief Society President. Another Maori sister, seated behind me, is called as her counselor. She tells me she is the only active member in her family. Even her children don't attend with her. But she feels great purpose in her new assignment; that she is meant to gather her friends and bring them with her.
The speakers for the meeting are visitors from Dunedin, a city south of Queenstown. This husband and wife have driven three and a half hours to be there. Both are native New Zealanders who joined the church as teenagers. The sister speaks about reading the scriptures every morning before we begin our day. It is one of the most powerful talks I have heard on scripture study.
Then her husband speaks, and with a clear and confident voice, he makes this statement of encouragement to the small branch:
"Safety is not in numbers," he says. "It is in the Spirit." Continue reading →