Every year I look forward to the announcement of the Whitney Award finalists, and every year I have the best of intentions for reading all of them. (Some years, I have!) But not this year. I did, however, read all of the young adult finalists–since that is, well, the genre I also write.
The finalists for the general category this year were all powerful stories, each with their own strengths.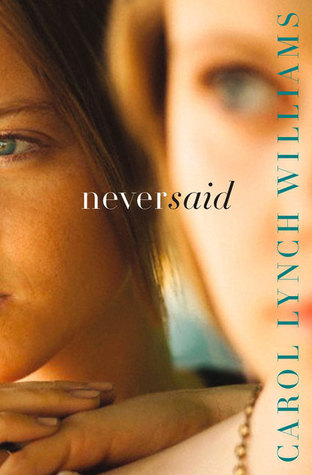 Never Said, by Carol Lynch Williams
Like most of Williams' books, this one explores dysfunctional family relationships, this time with two sisters at its heart. Sarah and Annie are twins: Annie has always been the pretty, popular sister; Sarah, her shyer, reserved shadow. Mostly, Sarah doesn't mind.
But then things change: Annie starts withdrawing. More, she starts eating. And eating. And eating–until her perfect, beauty-pageant body is unrecognizable. Sarah knows something has happened, but she's drowning in problems of her own: recovering her equilibrium after her boyfriend breaks up with her.  As the sisters start to spend more time with one another, they start to discover that their relationship may be key to saving each other–and their family.
Williams' writing has its own kind of spare beauty, and the story is quick-paced and engaging. I struggled a little at first to understand and like the sisters (particularly Annie), but as the story progressed I grew more and more connected to them. An interesting exploration of family secrets, body image, eating disorders and social anxiety.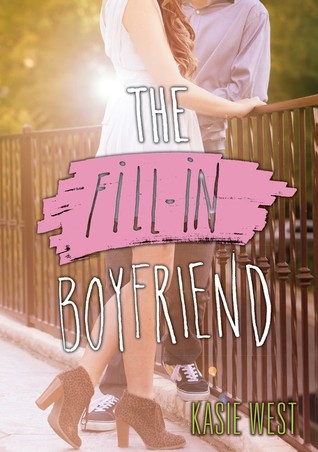 The Fill-In Boyfriend, by Kasie West
While the other YA general finalists all have a certain level of emotional heft, Kasie West's books are unabashedly fun, light reads. In this one, Gia Montgomery finds herself in a quandry: her boyfriend has dumped her in the parking lot just before prom, and after telling her friends about him for months, she  needs someone to prove she wasn't making him up. She finds a solution in a cute stranger who arrives to pick up his sister and convinces him to play  her boyfriend for one night.
Problem is, after prom night, she keeps thinking about the stranger (whose name she still doesn't know). But when she tracks him down, his sister means to collect on the favor Gia owes him–an exchange date, at his ex's party. But when Gia's own ex shows up and exposes the lies, there's a lot of tangled relationships to untangle. While I didn't love this one quite as much as previous West books (if you haven't read them, check them out!), it's still a fun, clean, romantic read.
Has to Be Love, by Jolene Perry
This book surprised me in a bunch of good ways. Years before, Clara survived a bear attack near her Alaskan home that left her with unsightly scars across her face and torso–and left her mother dead. Clara continues to deal with the fall-out from that, missing her mother and also struggling with public reactions to her scars, sure that somehow they prevent people from really seeing her, though she has a lovely and supportive boyfriend.
Enter the end of Clara's senior year. Clara's been accepted to Columbia–her dream school nearly a continent away–and she's waiting on an appointment with a plastic surgeon that will, she hopes, cure her scars. In the meantime, she's in limbo, not sure if she wants the risk Columbia represents, or if she wants the safety and security of a college near home, a life with her long-time boyfriend. When a new substitute teacher (a Columbia student himself, on leave) arrives in her life, representing all the things Clara secretly longs for, her plans for the future become tangled and uncertain.
Things I loved about the book: the setting. There aren't a lot of YA books set in Alaska, and I found the way Clara navigated her world fascinating. Clara's religion: she's Mormon, which you also don't often find in mainstream YA novels. And while her religion isn't a pivotal plot point, it informs who Clara is–particularly her very-real struggles between what her body wants and what she believes she ought to do. I loved too that the plot surprised me several times, particularly in terms of Clara's relationships. It wasn't at all what I expected. Mostly, I found the story so real: Clara is flawed and makes some dumb decisions, but she's also a teenager and human and Perry does such a great job at capturing that messiness and uncertainty.  I found Clara's story touching and thought-provoking, though I wouldn't necessarily recommend it for very young readers, as some of Clara's relationship scenes are a little steamy (but not gratuitous–those scenes are critical to Clara's development).
Ink and Ashes, by Valynne Maetani
Maetani won the New Visions award from Tu books for her debut, Ink and Ashes. (She's the only debut author among the YA general nominees). The story seamlessly blends contemporary teen concerns and elements of Japanese culture.
Claire Takata, a Japanese-American teen, doesn't know much about her father, who passed away when she was a girl. Shortly before her seventeenth birthday, she finds a letter from him addressed to her step-father–a man her father presumably never knew. In an effort to uncover the truth behind her father's connection to the man who raised her, Claire uncovers far more than she bargained for: her father was a member of the yakuza, the Japanese mafia. This discovery triggers a series of increasingly dangerous attacks on Claire and her family, and if she, her brothers, and their witty group of friends can't sort out the truth, it might be too late.
My favorite part of this story was not, surprisingly, the thriller aspect (which is well-done and fast-paced), but the relationship between Claire, her family, and her friends. Maetani brings together a group of funny, quirky, individuals that you can't help rooting for. I also loved the bits of Japanese culture woven throughout–Americanized Claire knows some of her cultural heritage, but not all of it, and as she learns more about her culture (and comes to appreciate its intricacies), the reader does too.
I have loved Calvin and Hobbes for a very long time, and Martine Leavitt's Keturah and Lord Death has been a long-time favorite of mine, so naturally I was intrigued by anything that promised a mash-up of two things I love. Once I got over the initial coincidences: Calvin was born on the last day Bill Waterson's famous comic ended, his grandfather gave him a stuffed tiger and named it Hobbes, and his neighbor is a girl named Susie, I really enjoyed this story.
Calvin's life seems fairly normal–aside from the whole not-having-friends thing (Susie, who used to be the closest thing he had to a good friend, recently decamped for a more popular crowd). But then comes the day when he's about to fail English and biology–and Hobbes starts talking to him. Hobbes, the stuffed tiger his mom dissolved in the wash years ago.
One hospital trip and new diagnosis later, Calvin learns a name for what has brought Hobbes back: schizophrenia. Now, he's convinced that if he can pull off a risky stunt and walk across a frozen lake Erie, he can persuade Bill Waterson to write one more comic of Calvin, as a 17-year-old, without Hobbes–and he'll be cured.
But things, of course, don't ever go entirely as planned.
I loved Calvin's voice–I liked how Leavitt managed to create a believable boy who clearly questioned the signals his brain sent him, but who never despaired because of it. And I was astonished at how she managed to make a long walk across the ice interesting, suspenseful–and even funny. If the ending was a little underwhelming, well, that's sort of how life goes a lot of the time. The story was worth it for the sympathetic portrayal of schizophrenia, Susie's strength, and Calvin's own beautiful brain–and for lines like this: "Susie: Doesn't it make you feel kind of awesome that the world is beautiful for no other apparent reason than that it is? Like beauty has its own secret reason. It doesn't need human eyes to notice. It just wants to be glorious and unbelievable."
I also ADORED her homages to Calvin and Hobbes. Anyone who's familiar with the original will appreciate the occasional appearances of Spaceman Skiff, his alien teacher, the transmogrifier, and more.
Have you read any of the YA general nominees? Which was your favorite?