Of all the Whitney award categories, the one I feel most at home in is YA speculative. I read a lot of fantasy (not as much sci-fi, but some)–and I write it as well. Not surprisingly, when the finalists were announced, I'd already read several of them. This year's crop of finalists runs the gamut from otherworld fantasy (Followed by Frost) to steampunk (Airships of Camelot) to near-future sci-fi (Airships of Camelot) to dystopian (Firefight) to alternate history (This Monstrous Thing).
Followed by Frost, by Charlie N. Holmberg
Followed by Frost initially bears little resemblance to Holmberg's popular Paper Magician trilogy–but like Holmberg's other series, it has a meticulous world and a unique  magic system, with remarkable characters. The story reminded me of a gender-flipped Beauty and the Beast, with Smitha herself playing the beast. After unwittingly scorning the advances of her father's apprentice, who turns out to be a magician of rare powers, Smitha finds herself cursed to be followed by frost. Immediately, winter descents over her village (though it should be summer), and Smitha finds herself driven from her home, and hunted up into the mountains where she can hide. But she cannot hide from Death, who is strangely fascinated by her. Smitha resists his invitations, but she cannot resist the invitation extended by a Southern king, who thinks the ice that follows her might not be a curse for his drought-stricken, but a blessing.
I'll admit that I found parts of the beginning slow going: Smitha starts out quite unlikeable–selfish, proud, spoiled–and the early parts of her transition are not pretty. She feels sorry for herself, she pouts, she hides away from human company for a very long time. But I'm glad I stuck with the story, both because her encounters with Death were fascinating, but also because the love story that unfolds in the second half of the book was fantastic–my very favorite kind of heart-twinging, bitter-sweet pain.
Airships of Camelot, by Robison Wells
Given the number of YA speculative LDS authors, the YA speculative category is often dominated by books published with large, national presses. I think it says a lot about the quality of Wells and Patterson's indie-published novels that they managed to hold their own amid stiff competition.
Wells' novel was a delightful twist on the Arthurian tales: a futuristic world where the U.S. was decimated by the Spanish influenza. Those who survived managed to do so by virtue of fierce quarantine, under the protection of airship admirals. Three generations later, Arthur is part of a troubled dynasty (Camelot–formerly Colorado) that survives by raiding outcast settlements to pay for the helium they need to run their airships. But Old Ironsides is demanding more and more for the helium, and when a raid goes wrong and Arthur is stranded on the ground with savages who've been exposed to the Spanish flu, he's got to find a way to not only survive, but salvage his father's empire.
The steampunk elements here were a lot of fun–who wouldn't want to be part of an army of flying dirigibles? I thought Wells' world was imaginative and believable, and the Arthurian nerd in me loved tracking the different iterations of Arthur's knights (some of whom have become ladies in this version).
A Thousand Faces, by Janci Patterson
Sixteen-year-old Jory and her family have a dangerous secret: they're shape-shifters, paid to take on the identities and likenesses of anyone, to satisfy the highest bidders. Her family has recently begun a cautious truce with another shape-shifting family, working together in a series of assignments.
But when Jory's parents go missing after a job, Jory enlists the aid of Kalif, her shapeshifting neighbors' son, to help her find her parents. What they find, instead, is a mystery much closer to home, and in a landscape of shifting identities and lies, Jory has to decide who she can trust, before she loses her parents forever.
This book has some pretty amazing praise from NYT bestselling authors: James Dashner, Brandon Sanderson, Aprilynne Pike. I'm not sure it lived up to the hype for me (but I've probably already made my fantasy bias known). The prose was clean, and the story fast-paced and intense.
Firefight, by Brandon Sanderson
Brandon Sanderson knows how to write riveting plots–and Firefight, the sequel to Steelheart, is no exception.
In a world where cities are controlled by powerful Epics (humans with superhuman abilities), David has joined the Reckoners fighting to limit the Epics power. But after defeating Steelheart in Newcago (the steel-encased former Chicago), Prof, the head of the Reckoners, thinks they need to focus their efforts on Regalia, who rules former New York City (Babylon Restored, aka Babilar). David's eager for the new task, not just to take out another epic, but to reconnect with the Epic Firefight (aka Megan) whom he fell for when she infiltrated their force in Newcago.
But David's experiences in Babilar make him start to question his fundamental understanding of Epics: that their power inevitably corrupts them, to a degree proportionate to their strength. In Babilar, he finds people who are relatively content with their life, feeding off the strange fruit growing in the building and grown by a mysterious Epic named Dawnslight. Regalia, too, has some deeper motive in drawing them to Babilar–and some connection with Prof. And then there's Megan–Firefight–whose ability to stave off the Epic madness has David wondering if destroying the Epics is really the answer they should be looking at.
This one started a little slower than Steelheart for me (after the break-neck first chapter). But it definitely picked up, and there were some fascinating twists at the end of the book. Sanderson is not, unfortunately, as good at writing romance as he is at action sequences (or maybe I just like my romance tender, rather than funny). All things considered, that's a pretty minor complaint.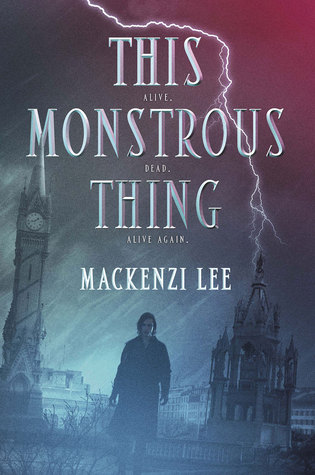 This Monstrous Thing, by Mackenzi Lee
The only debut among the YA speculative finalists, Lee's novel reimagines Frankenstein in an alternate  steampunk world, where the resurrection is accomplished through gears and gadgets. So far, the book is easy enough to sum up. But Lee has done much more with this retelling. It's a lovely homage to the original, down to the inclusion of Mary Shelley herself as a complicated character.
Two years before the story begins, Alasdair Finch did a terrible thing. An accident happened, his brother died, and Mary, the girl he loved, fled Geneva. Unable to live with what he'd done, Alasdair did the unthinkable: he brought Oliver back to life.
Now, Alasdair is trapped in Geneva, helping his father perform illegal surgeries on clockwork men, though he longs to study with the brilliant Dr. Geisler at the university. He can't leave Oliver behind. But when a new disaster brings with it unexpected opportunity, Alasdair finds his past is not so easy to leave behind as he believed.
The historical details shine, creating a vivid story world. But the heart of the story is the relationship between brothers Oliver and Alasdair–and in keeping with real sibling relationships, this heart is complicated, bruised, hopeful, loving, powerful.
Have you read any of the YA speculative finalists? Which was your favorite?